Due the Coronavirus pandemic the Mayor has asked that we close all offices to the public.
We ask at this time you please utilize our online and remote service options to conduct any business with the County Clerk. We are sorry for the inconvenience, but public safety is our top priority.
Learn More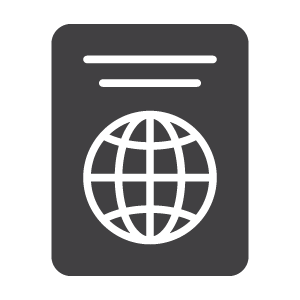 Passport applications are accepted Mon-Fri 8:00 am – 3:00 pm. No applications will be accepted after 3:00 pm. 
Requirements
Passport applications can be obtained at our E. Main St. location. You can also access online forms here which you can print, fill out and bring with you to our office.
You must provide the proper forms of identification at the time you apply for your passport. Click here to learn more about required forms of identification to obtain passports.
Fees
Passport fees vary based on type. Click here for more information about passport fees and to access a fee calculator. Passport application fees must be paid by a check or money order. 
In addition to passport application fees, the County Clerk collects a $35.00 processing fee for passports. Acceptable forms of payment for this fee are cash, checks, debit or credit cards.
Your Location for Passports